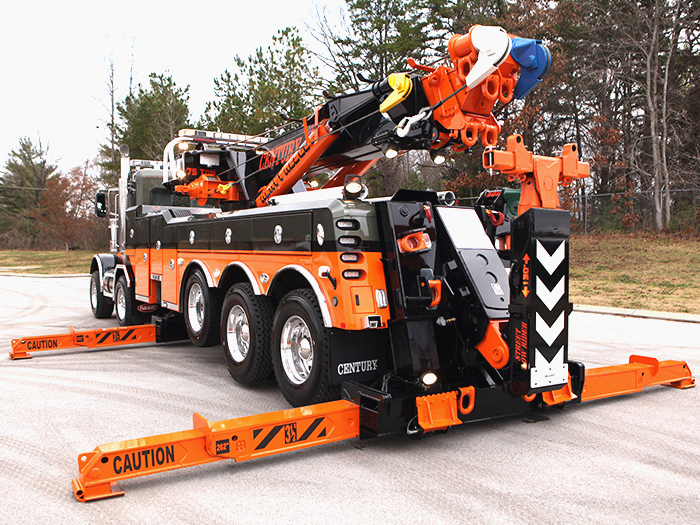 Photo Credit: Miller Industries
It has been rumored that Bill Bottoms took a roll of butcher paper and laid it up against one of Gerry Holmes' new Century wreckers to make a copy that he went on to sell to the City of Chicago. And, that was the kick start of Challenger Wrecker Company some years back. With Jeff Badgley (who is presently co-running Miller) as VP of Sales, Lou Fava Sr. as their longest and strongest outside salesmen in the Northeast, Dave Humphries as VP of Engineering and Bill personally courting the larger Heavy Duty towers across North America, Challenger quickly rose to a position of dominance in the industry.
As I recall the Challenger rotator was one of the first in regular production in America. And, thanks to Dave's engineering wizardry, Challenger also offered a HD Underlift that was unequaled at the time. But the problem then (and now) is that the larger, bigger-than-life HD wreckers and rotators were/are just too heavy to scale a HD load. I remember that Harry Saehlenou of Anaheim-Fullerton WS got an overweight ticket for towing a 379 Pete by the nose with his new Challenger rotator which led to the "two wrecker call" program. That is to say, law enforcement wanted his rotator working the accident for its speed and utility but also had to have a lighter HD wrecker available to tow away the disabled or wrecked vehicle(s). Harry liked that a lot as I'm sure others did elsewhere in areas of rigid enforcement of weight laws.
Challenger has since passed through several hands, finally ending up as the flagship and first wrecker of Miller Industries, where it remains to this day. Bill Bottoms and his team pushed the envelope of HD wreckers and rotators which moved our industry forward a great deal. Last I heard, he turned to making "specialty rigs" that are really portable bars and entertainment centers for HD PARTYING. The sides open up to expose multiple TV sets, bar stools, beer taps and all the rest that's wanted and needed for any pre- or post-game festivity. And, I understand that the cost is about the same as a HD wrecker, although they do not weigh nearly as much and are a lot more fun.