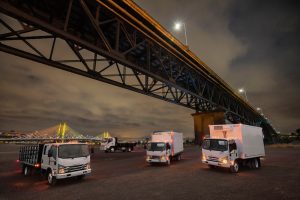 Isuzu Commercial Truck of America, Inc. has announced production plans for its 2019 and 2020 model-year lineup. Highlighting the announcement is the addition of two new Class 5 gasoline engine models next year.
"We are celebrating the 35th anniversary of Isuzu trucks in the North American market this year, and what better way to mark the occasion than to expand our lineup," said Shaun C. Skinner, president of Isuzu Commercial Truck of America and Isuzu Commercial Truck of Canada. "We're thrilled to bring the convenience and low cost of ownership of our N-Series gasoline truck to Class 5 and a whole new group of customers."
A prototype was available at the  National Truck and Equipment Association Show in March.
Two Class 5 models are planned:  the NQR Gas with a target GVWR of 17,950 lbs. and the NRR Gas with a target GVWR of 19,500 lbs. Both will be powered by a General Motors 6.0-liter Vortec V8 supplied by PSI and will be mated to an Allison 1000 RDS transmission with PTO gear.
Production is expected to begin in mid-2020.
In addition to the Class 5 gasoline trucks, Isuzu announced a number of refinements to its returning lineup of diesel- and gas-powered trucks, including new Mobileye advanced driver-assistance features and audio options for all models.
For more information about Isuzu visit www.isuzucv.com.