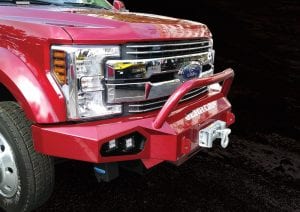 Jerr-Dan Corporation, an Oshkosh Corporation Company (NYSE:OSK) and a single brand leader in the towing and recovery business, will exhibit a counterweight accessory for standard-duty and heavy-duty wreckers at the 2019 Florida Tow Show taking place April 11-14 in Orlando, Florida.
The Jerr-Dan Counterweighted Winch Bumper is available with and without a Pre-Runner Bar.  The counterweighted winch bumper (available not painted) includes the following features:
For Ford F-450 and F-550
Model years 2017 to current
12,000 lb. Ramsey winch
Full weight bar tray with (5) 31.5 lb. removable weights
Designed specifically for towing and recovery
Prepped for paint
Universal mounting brackets for six LED lights (LED lights not included)
In addition, Jerr-Dan's full line of carriers, wreckers and rotators will be on display. Jerr-Dan will open the Florida Tow Show on Thursday evening hosting the kick-off party at 7:00 p.m. at the Jerr-Dan booth with product demonstrations, food and beverages. Jerr-Dan's Heavy-Duty Senior Sales Manager, Shane Coleman, along with other Jerr-Dan product experts will be offering product presentations and demonstrations on Friday and Saturday at the Jerr-Dan booth.
To learn more about Jerr-Dan visit www.jerrdan.com.