International Truck Celebrates First Customer Delivery of the International® CV™ Series
Mar 1st, 2019 | By
Editorial Staff
| Category:
Industry News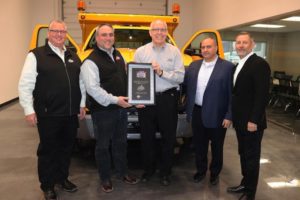 On February 28, International Truck celebrated the first customer delivery of the International® CV™ Series to Team Fishel, a provider of utility engineering, construction and network installation services.
Hosted at a new Rush Enterprises-owned Custom Vehicle Solutions facility in Denton, Texas, the event brought executives from Navistar, Inc., Rush Truck Centers, Team Fishel and Godwin Manufacturing that bodied the truck, together to celebrate the occasion.
The event was highlighted by Dennis Huffmon, senior vice president of U.S. Sales at Navistar, handing over the keys to John Phillips, president and CEO of Team Fishel.  "We're proud to present the first CV Series production unit to Team Fishel," said Huffmon. "I'd also like to acknowledge the outstanding customer support from Rush Truck Centers, whose commercial truck expertise represents a competitive advantage experienced across our entire International Truck dealer network."
The delivery is the first of a number of vehicles Team Fishel will receive after making the largest single retail purchase to date for the CV Series. Team Fishel has over 30 offices in 13 states, more than 2,300 employees and over 1,600 trucks ranging from class 4 to 8.
For more information about Navistar visit www.Navistar.com