Athens Towing & Recovery
Nov 9th, 2018 | By
Editorial Staff
| Category:
Truck of the Month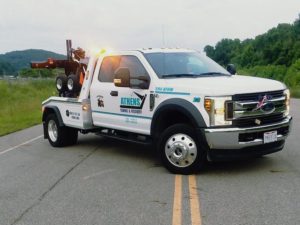 Athens Towing & Recovery is celebrating 20 years in business this year, and this is the newest addition to our fleet: a 2018 Ford F-550 Extended Cab 4×4 twin-line Jerr-Dan MPL outfitted with all the equipment necessary to fulfill the needs of our customers.
Athens Towing & Recovery is known for its work in serving city, county and state law enforcement, local garages and dealerships.
Driver Alex Burcher is proud of this truck and nicknamed her "Shelby" for reasons we have yet to determine.
Athens Towing & Recovery
Athens, Ohio