50,000th Isuzu N-Series Gasoline Truck Assembled in America
Aug 3rd, 2018 | By
Editorial Staff
| Category:
Industry News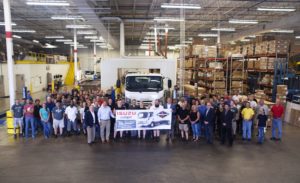 Isuzu Commercial Truck of America, Inc. has announced that the 50,000th gasoline-powered Isuzu N-Series truck has been produced in Charlotte, Mich. The truck rolled off the assembly line on Wednesday, August 1, 2018.
The Isuzu N-Series truck was the first gasoline-powered low cab forward truck available in North America. Assembly of the truck began at Spartan Motors, Inc. in April 2011.
"We anticipated the demand for gasoline-engine low-cab-forward trucks over seven years ago, and the assembly of our 50,000th truck proves that our instincts were correct," said Shaun Skinner, president of Isuzu Commercial Truck of America.
Isuzu N-Series gas-powered trucks have a Vortec 6.0-liter small-block V8 engine that produces 297 horsepower at 4,300 rpm and generates 372 lbs.-ft. of torque at 4,000 rpm. The six-speed automatic transmission has double overdrive and lock-up torque converter. An optional version of the engine can be converted to run on compressed natural gas (CNG) or liquefied petroleum gas (LPG, or propane).
Other Isuzu gasoline-powered models are the NPR (12,000-lb. GVWR) and NPR-HD (14,500-lb. GVWR.)
"We are proud to offer our gas-powered N-Series truck in a wide range of configurations to meet our customers' needs," Skinner said. "And together with our dealerships and Spartan Motors, we're looking forward to the next 50,000."