22 Names Added to the Wall of the Fallen
Sep 19th, 2016 | By
ctitchenal
| Category:
Spotlight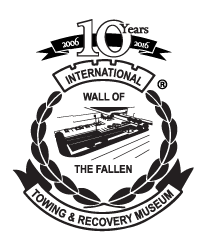 On September 10, 2016, viagra order in Chattanooga, Tenn., the International Towing & Recovery Hall of Fame and Museum added 22 new names to the Wall of the Fallen during its tenth annual ceremony honoring towing operators who have died in the line of service.
The names include those from previous years as the details of fatalities become known. In all, the Wall of the Fallen now has over 400 names of men and women who have lost their lives serving the towing and road service industry.
The Wall of the Fallen ceremony seeks to honor towing operators whose lives were cut short and the Survivor Fund provides a one-time gift to the families. Survivors' families also receive a Certificate of Honor.
The annual ceremony also aims to boost motorists' awareness of Move Over laws in effect in all 50 states that require drivers either to move over one lane and/or slow down when approaching an emergency vehicle. Some – but not all – states designate tow trucks as emergency vehicles.

| | | |
| --- | --- | --- |
| Name | State | Year of Death |
| Frank D. Baity | NC | 2004 |
| Robert L. Carter | IN | 2015 |
| Sam W. Collins | TN | 2013 |
| Richard S. Eaton | ND | 2016 |
| Daniel F. Getty | NE | 1995 |
| Daniel G. Haro | AZ | 2016 |
| Paul R. Hayes, Jr. | KY | 2015 |
| Edward Kammerer | MO | 2015 |
| John Martins | MA | 2015 |
| James E. Mills, Jr. | SC | 2015 |
| David A. Moore | OK | 2015 |
| Charles E. Myers | WV | 2016 |
| Barbara C. Pettis | IL | 2016 |
| Stephen M. Ricketson | LA | 2015 |
| Gene L. Schofield, Jr. | AL | 2016 |
| Jack L. Schultz | PA | 1991 |
| Jason W. Schultz | MI | 2016 |
| Fred Scroggs, Jr. | MI | 2015 |
| Robert M Walters | TX | 2005 |
| Eric L. Wiles | NC | 2015 |
| Rico L. Wills, Sr. | GA | 2016 |
| Eshagh Yousefzadeh | CA | 2015 |
| | | |